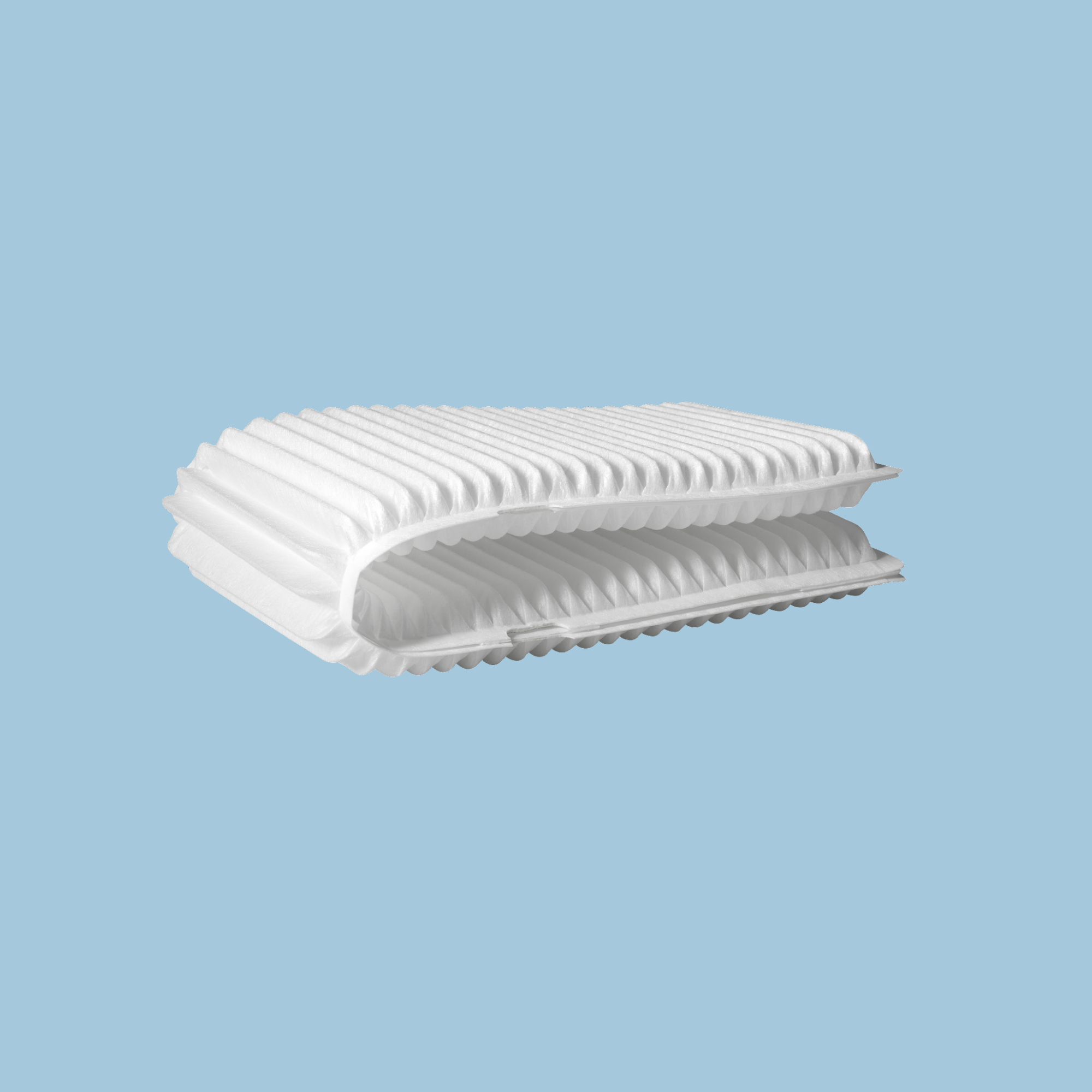 Smart Air Filter
---
Elevate your air quality with the Woosh Smart Air Filter Kit, which includes the Woosh Smart Frame and one Woosh Foldable Filter Insert. The Woosh Smart Frame features highly accurate filter sensors, secure magnets for easy installation, and optional gasketing for that perfect fit.
Woosh filter refills are $22, free shipping nationwide.
Smart Reusable Filter Frame 

Reusable frame design
Integrated sensors that accurately track filter performance
Mounting magnets to keep the frame secure when installed
Dedicated Bluetooth/WiFi Gateway device with magnetic mounting
Optional gasketing is available to create a snugger fit



Woosh Fold Filter 

MERV 13 rated and made with 3M ™ Filtration Technology
Effective at capturing Dust, Pollen, Pet Dander, Mold Spores, Smoke, PM2.5, Bacteria and Viruses
Foldable filter design traps dust for easy disposal in any waste bin
The carefree way to track your filter life and air quality.
Harness the power of our Woosh Air app for a superior air quality experience. Stay informed about your filter's status in real-time, guaranteeing that your air is consistently cleaner.
Keep tabs on the ever-changing landscape of indoor and outdoor air quality, and receive instant alerts when conditions dip. Plus, seamlessly sync your app with your smart thermostat to automate air circulation. It's your path to effortless control over your living environment, all made possible by Woosh.
Download the 'Woosh Air' app on the Google Play Store or App Store.
Frequently Asked Questions
Woosh is at the forefront of redefining indoor air quality experiences. At its core, our advanced air quality monitor vigilantly scans the air within your home, identifying a range of particulates. Should it detect poor air quality, the monitor communicates with your integrated smart thermostat. 

Instead of the typical heating or cooling response, the thermostat triggers your home's HVAC system to recirculate air. The air is gently pulled through the Woosh filter, where unwanted particles are efficiently captured. This cleaner air is then redistributed throughout your living spaces.

But Woosh's innovation doesn't stop there. The smart filter, equipped with sensors, discerns when it's reaching its capacity. At this juncture, it sends out a signal, and without any hassle on your part, a fresh refill filter is dispatched straight to your home. With Woosh, air filtration is not just about purification; it's about creating a seamless, proactive, and effective air quality journey in your home.
At what percentage should I replace the filter?

The ideal percentage at which to replace your filter largely depends on your personal comfort level. Changing your filter before it's fully used up can enhance the airflow in your HVAC system, reduce energy consumption, and improve overall filter efficiency. At Woosh, we strive to balance these benefits with the cost implications of switching to a new filter. Many of our users opt to replace their filters when about 20% of filter life remains, while others wait until the filter reaches 0%. We recommend monitoring your filter's performance and making a replacement decision that best aligns with your comfort and preferences.
What are the potential consequences of not changing the filter at all?

Neglecting to change your filter can have several negative impacts on both your HVAC system and your indoor environment:

Reduced Air Quality: A saturated filter may less effectively capture contaminants, leading to poorer indoor air quality. This can result in increased allergens, dust, and other pollutants circulating in your home.
Increased Energy Consumption: A clogged filter restricts airflow, causing your HVAC system to work harder and consume more energy. This can lead to higher energy bills over time.
System Wear and Tear: Overworking the HVAC system due to a clogged filter can result in faster wear and tear, potentially shortening the lifespan of the system and leading to costly repairs or replacements.
Uneven Temperature Distribution: With reduced airflow, your HVAC system might struggle to maintain consistent temperatures throughout your home, leading to cold or hot spots and overall discomfort.
Increased Humidity: In some cases, a dirty filter can reduce the efficiency of humidity control, leading to potential mold growth or an uncomfortable living environment.

Regularly checking and replacing your Woosh filter is a simple yet essential maintenance task that can help you avoid these issues, ensuring a comfortable and cleaner living space while optimizing the performance and longevity of your HVAC system.
How do I properly install my filter?

Installing our filters is a straightforward process:

Open the reusable frame by loosening the latches.
Fold up and carefully remove the dirty filter media.
Place the new filter media into the frame, ensuring it sits snugly and evenly.
Close the frame and securely fasten the latches to hold the filter media in place.
Confirm in the app that you have changed the filter

By following these simple steps, you'll ensure optimal performance and longevity of your filter.
This product has no reviews yet.